This story comes directly from here and is about a young lady who was given $5 (pounds, really, but I don't have a symbol for that on my keyboard!) by an anonymous stranger simply for being a good parent.  What a fabulous idea!  Reinforce good behavior with your Random Acts of Kindness.
******
A young mother is trying to get in touch with a man on a train who praised her for her parenting skills and left her £5 to buy herself a drink. Sammie Welch, 23, was travelling with her three-year-old son, Rylan on a busy First Great Western train from Birmingham to Plymouth on Thursday evening when a man handed her a note as he got off in Bristol.
The mystery passenger, who signed the message "Man on train at table with glasses and hat", complimented her on dealing with her son. The note, in capital letters, read: "Have a drink on me. You are a credit to your generation, polite and teaching the little boy good manners. PS I have a daughter your age, someone did the same for her once. Hope when she has children she is as good a mother as you. Have a lovely evening."
Welch, who is originally from Crewe but now living in Plymouth, said she "wanted to cry" at the anonymous benefactor's generosity. She told ITN she would not spend the £5 but put into her son's savings account.
"I couldn't believe it," she said. "I can't actually describe how it made me feel. It was shocking."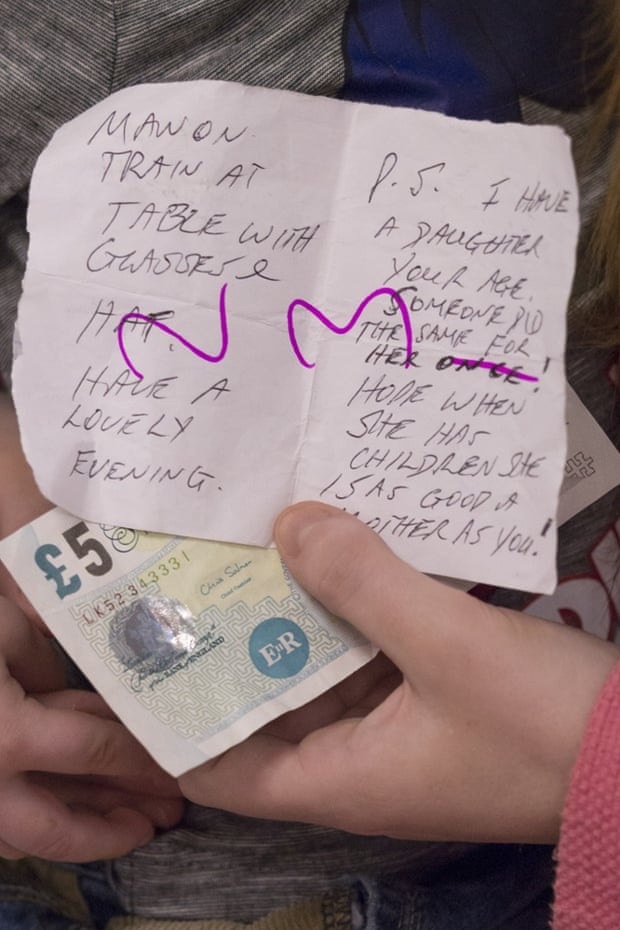 "I don't think he understands how much the note made me feel, so I'd like tell him."
Welch says she was trying to entertain Rylan on the crowded train.
"I was just being how I am normally with him. We were playing, having a laugh, dancing."
After his dinner Rylan fell asleep, sprawled across his mother and another seat. When another passenger came to sit down Welch moved Rylan on to her lap, insisting the man took the seat rather than stand. Shortly after, the mystery passenger passed Welch the note before leaving.
"He literally tapped me on the shoulder and just handed me this note and said 'I think you've dropped this out of your bag'," she said.
Welch said she and the man sitting next to her were confused at first.
"Once I'd taken it we realised it couldn't have come out of my bag because I was sat next to the window. It was then we both looked at it, and we were so shocked."
She said she now wants to trace the man, who was in his 50s and wearing glasses and a hat, to thank him.
****
#consciousGiving #RAKtivist